Laura Savoy Boyle – Running Paints Art Studio
Welcome to the world of horses through the eyes of Laura Savoy Boyle.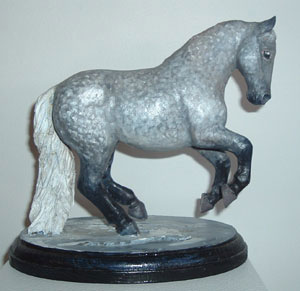 Horses are Laura's passion. She not only paints and carves these elegant beauties but rides and teaches riding skills as well. Visit her renovated 'Studio in the Barn' and see her excellent equine carvings, drawings and acrylic paintings.
Since 1987, Laura has developed her work in a variety of subjects and media, but horses are her greatest inspiration. Over 20 years of experience in the horse community as a competitor, trainer, coach and owner, is reflected in her work in exquisite detail. As a versatile artist, she expresses the beauty of horses not only in graphite pencil and acrylic, but also now in wood. Her debut for her wooden horses at Buckhorn Fine Arts Festival this past summer was a great success with one winning its class, and a relief sculpture placing second in another. In a following competition three of her pieces all finished in the top 5. Laura plans to continue competing in carving shows and she hopes next year to move up into the intermediate division. "Entering competitions you learn ways of refining and developing your work when you place it against the work of your peers. Your work may be fantastic, but there is always room for learning and improving on what you are doing. I like competing in the carving shows, because not only are you being judged on objective criteria for the most part, but often the ones judging your work are top master carvers themselves."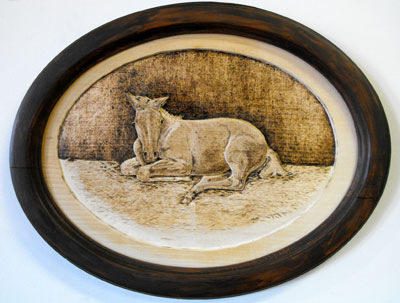 The studio: "Some have asked me how I came up with the name "Running Paints" for my studio. I liked the play on words first of all, and although I don't own a "Paint" horse, I find them interesting to draw sometimes. To me, Running Paints suggests a freedom of uncontrolled and unbridled creativity, and it allows me to explore and experiment in many different mediums while continuing to grow as an artist".
If you look out, you may even see her two horses happily munching on some grass. This is her workspace, and you can come and see a showcase of her newest work for sale, competition pieces in progress, and visit the artist at work.
New for this year too, is the traditional rocking horse. Based on a proven design for stability and function, Laura modified the rocking horses to reflect an earlier time where they were hand carved in more realistic detail. They stand approximately 30 inches high, and 53 inches long. They do not sport real horsehair for their manes and tails, but rather a synthetic substitute so they can still be braided and brushed.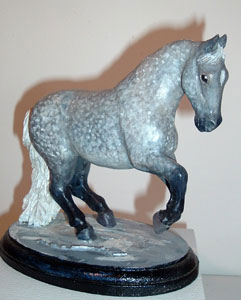 1 Pacific St, Pontypool:
From Hwy 35, turn west opposite Pontypool Rd #12, then immediately south onto Pacific Street.
(705) 277-2718